Airspace Technology Demonstration 2 (ATD-2) Selected as NASA Software of the Year Runner-up

NASA's Ames Research Center was selected as a runner-up for the 2021 NASA Software of the Year Award for its work in developing the Airspace Technology Demonstration 2 (ATD-2) system. About 150 NASA personnel, including several Human Systems Integration Division researchers, worked with the Federal Aviation Administration (FAA) and airline operators to conduct technology development and demonstration activities to improve the safety, efficiency and reliability of the air transportation system. This was achieved through the integration of multiple concepts and technologies to better integrate arrival, departure, and surface operations in increasingly crowded metroplex/multi-airport environments.

The Human Systems Integration Division's Airspace Operations Laboratory (AOL) played an integral role in this research effort. As experts in prototyping efficient Air Traffic Management (ATM) systems, AOL researchers helped to develop collaborative operational solutions for both Air Traffic Control (ATC) and airline flight operators. The AOL team applied human factors principles throughout the lifecycle of the project, including the concept of operations and concept of use, numerous human-in-the-loop simulations, the iterative development of software and display requirements dependent on user feedback, user manuals, the training of operators, and the final evaluation of operations. ATD-2 results have been impressive.  From Sept. 2017 to May 2021, Phase 1 and 2 of the field demonstration at Charlotte Douglas International Airport (CLT) had achieved a cumulative savings of one million gallons of jet fuel and a reduction in CO2 emissions equivalent to planting 150,000 urban trees.  This was accomplished with ATD-2 decision support tools which helped controllers determine when aircraft should be held at the gate with engines off rather than accruing delay on the taxiway or in the queue.  The more recently deployed ATD-2 Phase 3 system has software which enables airline flight operators to identify reroute opportunities which reduce delay both on the surface and in the air.

To watch an introductory video about NASA's ATD-2 field demonstration, please visit- https://www.youtube.com/watch?v=UMseKPtylfo

To learn more about AOL contributions to ATD-2, please visit the ATD-2 research page.

To learn more about ATD-2, please visit the Aviation Systems Division's ATD-2 page.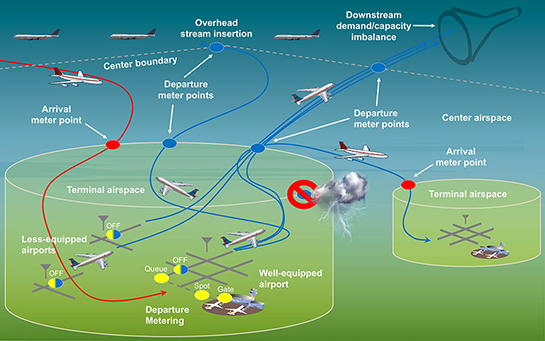 Illustration showing multiple ATD-2 arrival, departure and surface operations concepts in a multi-airport environment.



Point of Contact: Eric Chevalley (ARC-TH), eric.chevalley@nasa.gov, Human Systems Integration Division, NASA Ames Research Center