AOL researchers recently led development of the Integrated Demand Management concept for operational integration of two of the FAA's NextGen decision support systems to improve capacity-constrained arrival operations in the National Airspace System (NAS). The AOL's HITL simulation platform was used to engage stakeholders in the development and evaluation of new methods and procedures for using Traffic Flow Management System (TFMS) initiatives to strategically precondition traffic for the more tactical Time-Based Flow Management (TBFM) system (FAA TBFM overview video). This preconditioning was shown in a series of realistic HITLs to improve the efficiency and predictability of TBFM operations and provide airline operators more control over individual flight outcomes when weather- or traffic-related congestion affected operations.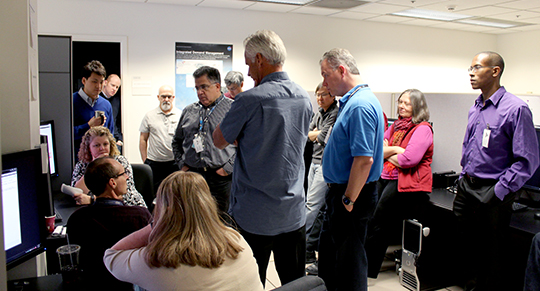 Traffic Flow Management System (TFMS) Deployment Team and representatives from MITRE Corp and MIT Lincoln Labs participate in IDM demonstration in the AOL.



Why IDM?

TFMS and TBFM represent two powerful NextGen automation systems used to address demand/capacity imbalances in the NAS. Recent enhancements to TBFM that extend its geographic and temporal range have introduced some overlap with TFMS functionality, raising the question of which system to use in some situations. TFMS features such as its collaborative decision making framework and new Collaborative Trajectory Options Program (CTOP) (FAA CTOP overview video) and Trajectory Option Set (TOS) capabilities, however, are absent from TBFM. Integrated Demand Management (IDM) proposes that often the best solution can be found by leveraging the complementary features of both systems, developing coordinated strategic (TFMS) + tactical (TBFM) flow management interventions as needed.

IDM Concept

IDM uses a strategic Traffic Management Initiative (TMI), such as CTOP, to adjust the rate and/or geographic distribution across arrival flows of the traffic inbound to a high-demand, TBFM-managed airport. This TFMS intervention preconditions the traffic before it reaches the TBFM planning horizon. This results in a more workable problem for TBFM, which can then tactically fine-tune the demand to deliver a well-managed, orderly feed to the destination airport. Coordinated use of these two flow management capabilities is intended to improve system performance in terms of:


Equity of ground delay assignment, avoiding excessive ground delay for TBFM-scheduled departures, without penalizing longer flights;
Throughput, by distributing traffic to maximize use of available capacity;
Predictability for operators, providing advance notice about the impact on individual flights;
Increased flexibility, by supporting operator mitigation strategies such as slot swapping and trajectory options;
Efficiency of flight operations, by improving access to user-preferred routes, using ground delay more effectively, and reducing airborne delay.

Concept summary, from Integrated Demand Management (IDM) Concept Overview.

Research Products

The AOL's IDM research was a stakeholder-centered, laboratory-based development process that provided the following products to the FAA.



Members of the FAA Flow Evaluation Team (FET), representatives from MITRE Corp. and the AOL IDM team.





Point of Contact

: Nancy Smith, M.S., Human Systems Integration Division, NASA Ames Research Center; Paul Lee, Ph.D., Human Systems Integration Division, NASA Ames Research Center