The

Human Systems Integration Division

enables the development of complex aerospace systems through analysis and modeling of human performance and human-automation interactions to make dramatic improvements in safety, efficiency, and mission success.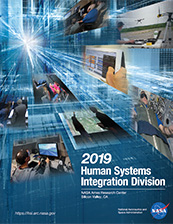 (

Download PDF, 42.7 MB) (Download Acrobat Reader

)

Oct 15, 2021

The Airspace Operations Laboratory (AOL) hosted a visit by NASA Administrator Bill Nelson, NASA Deputy Administrator Pam Melroy and Congresswoman Anna Eshoo.

Oct 13, 2021

Paper by members of the Airspace Operations Laboratory (AOL) awarded Best Paper of Session at the 40th Digital Avionics Systems Conference

Oct 8, 2021

NASA's Fatigue Countermeasures Laboratory hosted the Biomathematical Performance and Schedule Modeling for Spaceflight Operations Technical Interchange Meeting (TIM)

Oct 7, 2021

NASA's Scalable Traffic Management for Emergency Response Operations (STEReO) project conducts first field test of the UASP-kit with USFS at the McCash Fire

Sep 29, 2021

NASA transfers all findings from the Airspace Technology Demonstration 2 (ATD-2) project to the FAA




No events found!

What is Human Factors?