The

Human Systems Integration Division

enables the development of complex aerospace systems through analysis and modeling of human performance and human-automation interactions to make dramatic improvements in safety, efficiency, and mission success.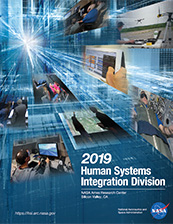 (

Download PDF, 50.5 MB) (Download Acrobat Reader

)

Nov 5, 2018

Division Booths at the 2018 Bay Area Science Festival Discovery Day at AT&T Park

Oct 15, 2018

Airspace Operations Laboratory (AOL) Supports NASA–JAXA Disaster Recovery Drill

Sep 14, 2018

The Airspace Operations Laboratory (AOL) hosts special visitors including NASA Administrator Jim Bridenstine in the UAS Traffic Management Lab

Sign up below to receive news releases via email. Email addresses to be kept confidential.





Apr 30, 2019 - May 3, 2019

AUVSI Xponential 2019



May 5, 2019 - May 9, 2019

2019 Annual Scientific meeting for the Aerospace Medical Association



May 7, 2019 - May 10, 2019

20th International Symposium on Aviation Psychology



What is Human Factors?