The

Human Systems Integration Division

enables the development of complex aerospace systems through analysis and modeling of human performance and human-automation interactions to make dramatic improvements in safety, efficiency, and mission success.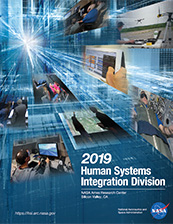 (

Download PDF, 42.7 MB) (Download Acrobat Reader

)


Jan 19, 2022

The Airspace Operations Lab supports the Follow On Flight Test for National Campaign

Dec 3, 2021

NASA's ATD-2 Aviation Technology to be Implemented at US Airports, Saving time for Air Travelers and Reducing Fuel Use and Emissions

Nov 12, 2021

Airspace Operations Laboratory and the Autonomous Vehicle Applications Laboratory complete first High Density Vertiplex simulation

Nov 8, 2021

Dr. Patricia Cowings featured in Smithsonian National Air and Space Museum article titled "Hidden No More: Black Women Groundbreakers at NASA"

Nov 3, 2021

NASA's automobile automation safety research highlighted in the science news outlet The Conversation

Oct 25, 2021

National Campaign (NC) and partner Joby Aviation conduct first ever flight test with all-electric vertical takeoff and landing (eVTOL) aircraft

Oct 15, 2021

The Airspace Operations Laboratory (AOL) hosted a visit by NASA Administrator Bill Nelson, NASA Deputy Administrator Pam Melroy and Congresswoman Anna Eshoo.




Nov 12, 2021 - Nov 11, 2022

Chabot Space and Science Center: The NASA Experience



Mar 5, 2022 - Mar 12, 2022

2022 IEEE Aerospace Conference (AERO)



What is Human Factors?