The

Human Systems Integration Division

advances human-centered design and operations of complex aerospace systems through analysis, experimentation, and modeling of human performance and human-automation interaction to make dramatic improvements in safety, efficiency, and mission success.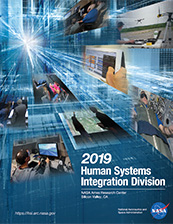 (

Download PDF, 47.3 MB) (Download Acrobat Reader

)

Jul 17, 2018

NASA Ames Research Center won the FLC Far West Software Award for Outstanding Technology Development for the NASA TLX for iOS

May 9, 2018

The crews of recent NASA Analog Missions at the Hawai'i Space Exploration Analog and Simulation (HI-SEAS) and the Human Exploration Research Analog (HERA) use Playbook, NASA Ames's mobile plan execution and crew autonomy tool

May 2, 2018

Dr. Erin Flynn-Evans presents keynote lecture at the Inland Northwest Research Symposium at WSU Spokane

Sign up below to receive news releases via email. Email addresses to be kept confidential.





No events found!

What is Human Factors?