The

Human Systems Integration Division

advances human-centered design and operations of complex aerospace systems through analysis, experimentation, and modeling of human performance and human-automation interaction to make dramatic improvements in safety, efficiency, and mission success.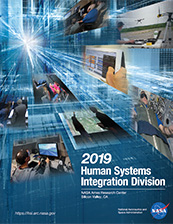 (

Download PDF, 47.3 MB) (Download Acrobat Reader

)

Sep 14, 2018

The Airspace Operations Laboratory (AOL) hosts special visitors including NASA Administrator Jim Bridenstine in the UAS Traffic Management Lab

Aug 3, 2018

Division Booths at 4th Annual Mountain View Tech Showcase

Jul 17, 2018

NASA Ames Research Center won the FLC Far West Software Award for Outstanding Technology Development for the NASA TLX for iOS

Sign up below to receive news releases via email. Email addresses to be kept confidential.





Sep 25, 2018 - Sep 27, 2018

IEEE 37th Digital Avionics Systems Conference (DASC)



Oct 4, 2018 - Oct 4, 2018

4th Annual PGME Simulation Education & Research Symposium 2018



Oct 1, 2018 - Oct 5, 2018

62nd HFES International Annual Meeting



What is Human Factors?