The

Human Systems Integration Division

enables the development of complex aerospace systems through analysis and modeling of human performance and human-automation interactions to make dramatic improvements in safety, efficiency, and mission success.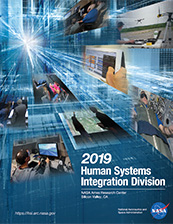 (

Download PDF, 42.7 MB) (Download Acrobat Reader

)


Sep 11, 2023

NASA Psychomotor Vigilance Test (PVT) Integrated into International Space Station Systems by European Space Agency (ESA).

May 26, 2023

Cassie Hilditch receives the 2023 William E. Collins Award for her paper on pilot fatigue during COVID-19

May 17, 2023

NASA's Dr. Erin Flynn-Evans Interviewed by CNN to Discuss the Sleep Challenges Faced by Astronauts on a Mission to Mars

Apr 21, 2023

NASA's UASP-kit Showcased During Executive Roundtable Discussions and Demonstrations for Wildfire Management

Apr 14, 2023

NASA Ames and Langley Research Centers Conduct Cross-Center High Density Vertiplex (HDV) Research Simulation

Mar 21, 2023

Joey Mercer wins the 2022 Aeronautics Research Mission Directorate (ARMD) Associate Administrator (AA) Award for Strategic Partnerships

Mar 14, 2023

Vernol Battiste receives the Dean-Greene S.T.E.M Award and is inducted into the Black Legends Hall of Fame Silicon Valley




Oct 1, 2023 - Oct 5, 2023

Digital Avionics Systems Conference 2023 (DASC)



Oct 23, 2023 - Oct 27, 2023

67th Annual Human Factors and Ergonomics Society (HFES) Meeting



What is Human Factors?