The

Human Systems Integration Division

enables the development of complex aerospace systems through analysis and modeling of human performance and human-automation interactions to make dramatic improvements in safety, efficiency, and mission success.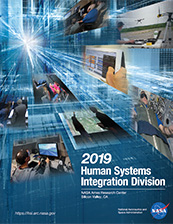 (

Download PDF, 42.7 MB) (Download Acrobat Reader

)


Nov 12, 2021

Airspace Operations Laboratory and the Autonomous Vehicle Applications Laboratory complete first High Density Vertiplex simulation

Nov 8, 2021

Dr. Patricia Cowings featured in Smithsonian National Air and Space Museum article titled "Hidden No More: Black Women Groundbreakers at NASA"

Nov 3, 2021

NASA's automobile automation safety research highlighted in the science news outlet The Conversation

Oct 15, 2021

The Airspace Operations Laboratory (AOL) hosted a visit by NASA Administrator Bill Nelson, NASA Deputy Administrator Pam Melroy and Congresswoman Anna Eshoo.

Oct 14, 2021

The Airspace Operations Lab tests out a new Mobile Operations Facility for National Campaign

Oct 13, 2021

Paper by members of the Airspace Operations Laboratory (AOL) awarded Best Paper of Session at the 40th Digital Avionics Systems Conference

Oct 8, 2021

NASA's Fatigue Countermeasures Laboratory hosted the Biomathematical Performance and Schedule Modeling for Spaceflight Operations Technical Interchange Meeting (TIM)




Nov 12, 2021 - Nov 11, 2022

Chabot Space and Science Center: The NASA Experience



Mar 5, 2022 - Mar 12, 2022

2022 IEEE Aerospace Conference (AERO)



What is Human Factors?