The

Human Systems Integration Division

advances human-centered design and operations of complex aerospace systems through analysis, experimentation, and modeling of human performance and human-automation interaction to make dramatic improvements in safety, efficiency, and mission success.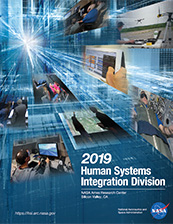 (

Download PDF, 47.3 MB) (Download Acrobat Reader

)

Jun 1, 2017

Dr. Erin Flynn-Evans interviewed by CNN

Apr 3, 2017

Dr. Brian Gore interviewed for the NASA in Silicon Valley Podcast

Mar 29, 2017

Dr. Erin Flynn-Evans interviewed for the March 2017 issue of "O, The Oprah Magazine"

Sign up below to receive news releases via email. Email addresses to be kept confidential.





Mar 25, 2018 - Mar 28, 2018

IEEE Haptics Symposium 2018



Mar 26, 2018 - Mar 29, 2018

2018 GPU Technology Conference



Apr 5, 2018 - Apr 5, 2018

Workshop on Medical VR and AR



What is Human Factors?