The

Human Systems Integration Division

advances human-centered design and operations of complex aerospace systems through analysis, experimentation, and modeling of human performance and human-automation interaction to make dramatic improvements in safety, efficiency, and mission success.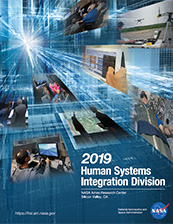 Mar 20, 2014

Ames Planning Software Goes Live on Console at ISS Mission Control

Sep 11, 2013

A virtual reality prototype headset is now on display at the Smithsonian National Air and Space Museum

May 28, 2013

The Flight Deck Display Research Lab kicks off a new three-year annex with Rockwell-Collins.

Sign up below to receive news releases via email. Email addresses to be kept confidential.




May 5, 2014 - May 9, 2014

SpaceOps 2014 13th International Conference on Space Operations



May 16, 2014 - May 21, 2014

Vision Sciences Society 13th Annual Meeting- VSS 2014



Jul 29, 2014 - Jul 29, 2014

Combined Workshop on Single Pilot Operations and Function Allocation



What is Human Factors?